Dreaming of fall? Desperate for cooler temperatures? To get you in the spirit, we offer up these delightful autumn arts ideas from around the web to help you beat the heat. Go ahead, put a scarf on. 
1. Stay-at-home mom and fashion design grad Melissa Klinker created this Bubble Wrap Corn Arts idea for the craft website Kiwi Crate. Grab some old bubble wrap, paint and raffia and enjoy. Estimated completion time: two hours. Full instructions here. You can find more ideas from Klinker at her blog MamaMiss.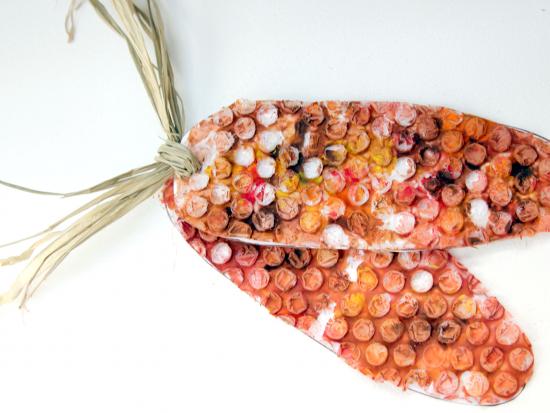 ---
2. If you have the space and supplies for a ceramics project, these leaf bowls are great for kids to make and also produce nice gifts for adults. Step-by-step instructions are available on Maggy Woodley's website Red Ted Art.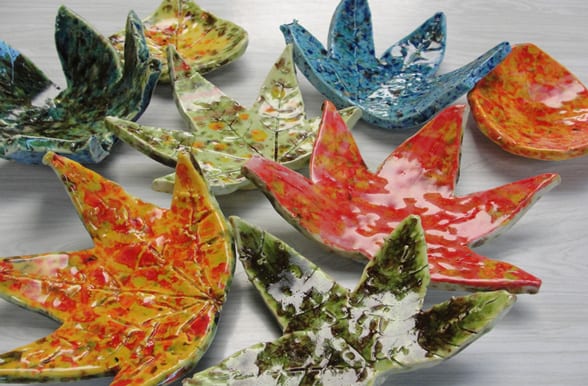 ---
3. If you have kids under 10, or are a teacher for early elementary students, you probably have a boatload of extra crayons laying around. Put them to good use with this magical little art project for melted crayons. Your pumpkins will look so good, you may want to skip carving altogether. Safety tip: This project is best for high schoolers and beyond. Melt your crayons with a hair dryer, not a lighter. Instructions available via Santa Monica blogger Jenny May's website.
---
4. Instead of finger puppets, consider Acorn Buddies. This craft idea comes from a teacher in Melbourne, Australia. Her blog focuses on projects that can help children learn through play. This miniature painting project produces incredibly cute results. If you can't find acorns at your local store, you can buy them online. Detailed instructions available here.
What are your favorite fall art projects? Have you tried any of these crafts? Give us your tips and suggestions in the comments below.